TRAVEL REQUIREMENTS TO VISIT BONAIRE
Have a COVID PCR test completed within 72 hrs. of travel and an antigen test no later than 4 hours prior to travel.
Present your negative COVID test results and health declaration form upon arrival.
Preserving Our Oceans
for Generations to Come

The Harbour Village Reef Foundation is a non–profit organization dedicated to the preservation of Bonaire's reefs through carefully selected projects and partnerships. HVRF helps raise funds from organizations and individuals interested in protecting marine ecosystems, raising global ocean awareness and supporting the preservation of Bonaire's waters through research and education.
Please consider a donation to help advance our reef restoration initiatives.
*The Harbour Village Reef Foundation Bonaire is a non-profit organization registered in Bonaire, Caribbean Netherlands.

Coral Preservation
As the only resort in the world advancing coral preservation through a two-tiered approach combining Electrified Reef and traditional coral transplantation techniques, Harbour Village Beach Club is leading the way in preserving and restoring some of the Caribbean's most spectacular coral reefs.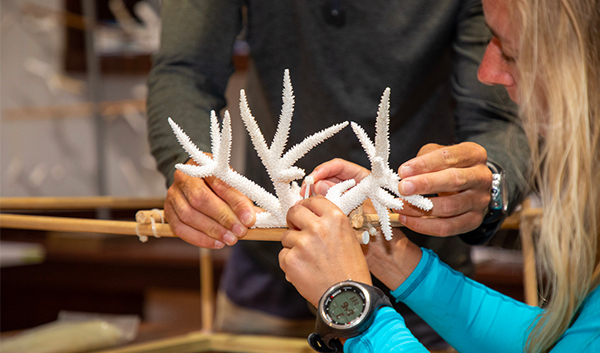 Coral Trees
Harbour Village is home to an underwater Coral nursery of Elkhorn and Staghorn corals cared for by the resort's dive masters, located right off the resort's private beach. The corals were either salvaged from ailing coral structures or broken corals that would have died without proper care. Guests can learn how to hang the coral on the trees, how to clean and maintain corals, and how to transplant corals from the nursery to the rock piles right off the Harbour Village beach. Guests transplanting corals can return every year to see how much their transplanted corals have grown.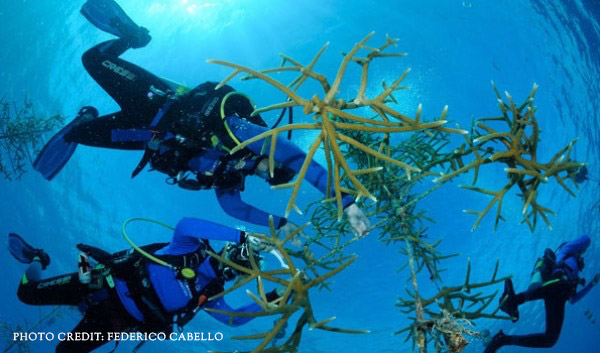 Electrified Reef
An Electrified Reef involves transplanting a variety of coral species to metal structures that have a low voltage DC current, which stimulates new growth significantly faster than traditional methods of coral restoration. This technology has been used to protect islands and coastal areas from erosion and rising sea levels. Harbour Village has an ideal setting for this type of research, with 16 rock piles offshore to attract new coral growth and a variety of marine life. The Electrified Reef project will be powered with the cabling already in place for our underwater webcams, and eventually expand to include Electrified Reef tunnels connecting the rock piles to create a reef and a new home for Bonaire's marine life.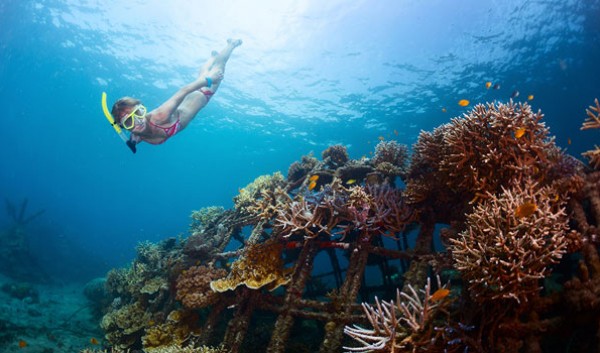 Coral Specialty Course
Great Adventures Bonaire offers a PADI Reef Renewal Diver specialty course allowing guests to introduce, nurture and transplant new coral colonies right off the Harbour Village beach. The corals are safely transplanted to protected areas off Harbour Village's private beach and can grow up to 5 cm every six months, growing the house reef. Non-divers can take the Aware Coral Reef Conservation Specialty course.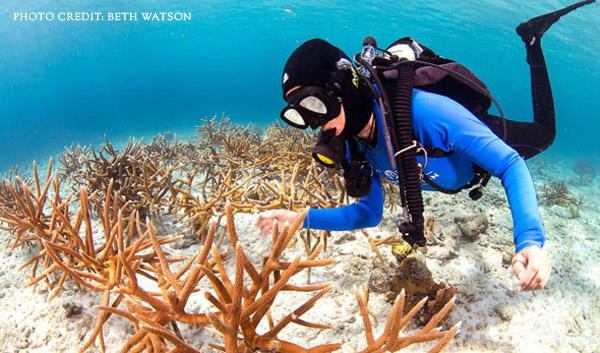 Lion Fish Specialty Course
Lionfish are an invasive species and pose a threat to coral and other fish as they have no natural predators in Bonaire's waters. Great Adventures Bonaire offers a Lion Fish Tracker specialty course which certifies guests in the use of the ELF (Eliminate Lion Fish tool) to hunt lionfish and help keep the reefs healthy.
Youth Education
Harbour Village supports the education of youth through onsite projects that allow local and non-local youth to collaborate in finding creative solutions to marine conservation on Bonaire and beyond.
Reef Cam
Harbour Village Beach Club has partnered with Teens4Oceans and Gulliver Schools of Miami, FL to bring an advanced View Into The Blue underwater research camera to Bonaire's pristine waters. The camera measures pH, temperature and salinity and offers local and non-local students field research experience as well as greater opportunities for students to partner with professional marine science mentors.
Youth Programs
Harbour Village helped found a local Teens4Oceans chapter through STINAPA's Junior Rangers, a local youth conservation group sponsored by the Bonaire Marine Park, which allows the Junior Rangers to collaborate with international students and mentors. Harbour Village is particularly proud of this program because of its direct impact on youth education and scientific research on Bonaire.